I'm Thaddeus, aka Half A Film Student, and I do weekly Indie Spotlight Reviews here. When I pitched my first list for Man, I Love Films, I decided I'd choose something related to what I cover on this site. And so we have my 10 Best indie films of the last 25 years.
It was tough to compile – there's been a lot of great indie releases in the last 10 years, let alone reaching back to 1987. I knew I'd miss a few worthy films, no matter what, so feel free to disagree with my choices and recommend your own picks. Many entries here are favorites of mine, but others got in for objective reasons. Let's get started:
Primer


I'm not inclined to like a movie that I can't understand, although I don't always reject them, either. In the case of Shane Carruth's Primer, I was utterly dazzled and impressed – even tho I could barely keep up with the film. I'm going to need a second and probably third viewing to understand the sequence of events.
Every aspect of Primer is commendable, but the standouts are the focus on characters and its amazing treatment of time travel. It's so bold in using simple conversation to convey what's going on without dumbing anything down or having awkward exposition. How many times would a person go back? Would you run into yourself? How do you even keep track of what's going on?
That this happened on a $7k budget with perfectly fine, unknown actors and smart direction? Practically a miracle. Carruth worked on Rian Johnson's upcoming Looper, which I greatly look forward to watching next month. Bless his heart, the guy trusts his audience to pay attention and be rewarded for it…
Clerks


In Clerks, first-time director Kevin Smith did an amazing job of capturing the attitudes of working class kids in NJ and NY. The spirit and quirks of lower-/middle-income tri-state people are on parade, here, with a heavy focus on the silly dicking-about of several kids between 16 and 22.
Every character is strongly-written and distinct. Even if none of them are familiar to you, they're all credible. Best of all, they're dead funny.
Part of the appeal is the lack of polish – you can see the camera reflected on glass once or twice, and many of the actors are obviously amateurs. These aspects don't come off as flaws – they just make the film more enjoyable. Bless Kevin Smith for dropping out of NYU and using his tuition to fund Clerks.
El Mariachi


Robert Rodriguez up-ended the idea of what you could do with a micro budget. In his case, he participated in a clinical drug trial to scrape together half of the cash needed for El Mariachi. For $7k, he gave film fans a fun, quick picture about a case of mistaken identity that creates a lot of action for a mariachi. He wanders into town, just looking for work, but the local drug lord has been threatened by an assassin. An assassin who's only known for carrying an arsenal inside his guitar case.
And, above all, El Mariachi doesn't have to rely on any gimmicks. The setup creates a great premise that Rodriguez exploits to the hilt. The movie never stops telling a fun, engaging story with a real arc for its characters. There is nothing about this work that looks amateur, and if you haven't seen this yet, do yourself the favor – the full movie was free on Youtube for months last year.
Brick


I hate to start repeating my own review of Brick, but every aspect of it is excellent and meticulously professional. Even there, the story and dialogue are what set this film apart. I have seen a few poorly-written movies that were shot as smartly as Rian Johnson's debut pic.
This excellent film noir is set in a California high school that's every bit as twisted and corrupt as The Maltese Falcon. Much like those old genre pix, even the smallest roles get smart lines that tell you a lot about their personalities. And in this case, Johnson just went A Clockwork Orange on us and devised a wide-ranging slang that the characters use. Luckily, my local arthouse theater gave me something like a cd booklet, but with definitions for everything.
Some people found the language to be a distraction. Then again, some people don't like subtitles or black & white movies. I suppose a more valid complaint is that some just see a clash between the youth of the cast and the gravity of what's happening. But this isn't five year olds in tiny trenchcoats reenacting The Untouchables. Everybody knows illicit stuff can go down in an American high school and that teenagers can be freaking evil. Everyone should remember what their own youthful slang probably sounded odd, too.
I've seen long-time filmmakers and screen-writers release work with poor characterization, clumsy dialogue, and a shoddy narrative. I've almost never seen a freshman effort that does so well on every front. Johnson deserves the high praise that comes out of my mouth every time this film comes up in conversation.
28 Days Later


I hadn't seen a scary movie in ages. Maybe Scream had been my last theater fright-fest. So I went to the theater one night, hoping 28 Days Later would be a good ride, and I got so much more than I expected. The quality of the film, in every aspect, carries you through a horrifying, realistic story of the luckiest man alive. He wakes from a coma to find out that car didn't kill or cripple him.
Or maybe you don't think it's lucky to be in a coma during the first 4 weeks of the zombie-pocalypse. The movie is a harrowing/smart/funny run through a total nightmare. Best of all, the gore and merciless nature of the film are justified because it composes a genuine character arc for the lead. Amazingly, the interaction between the roles is just as solid and engaging as the violence.
Cillian Murphy is phenomenal, and he gets exceptional support. I only recognized Brendan Gleeson, and it's astonishing to watch the whole cast collectively nail every beat. It's just as impressive to see a movie with tense, gripping, super-cool violence that still has themes and develops its roles. 28DL also had a groundbreaking use of digital video, making this artistically- and technically-perfect film all the more impressive. The £5,000,000 price tag is nothing compared to the end result.
Reservoir Dogs


Quentin Tarantino floored audiences with this violent, vulgar, talk heist flick. Stealing flagrantly from the Hong Kong classic City on Fire, Reservoir focuses on the personalities and interaction between 7 crooks planning out a jewel heist, and the intense aftermath as they flee the police.
The infamous torture scene sticks in viewers' memories, but it's the top-to-bottom quality that made RD such a success. Tarantino's assembled cast is gifted, and they're all fine here. Reservoir is shot brilliantly and deliberately, accompanied by a soundtrack that you want to buy about halfway through the running time. QT had already been a script doctor for some time, but this made people start paying attention.
Bad Taste
Peter Jackson spent about $25k making this film with his friends over a 4 year span. Near the end of the shoot, the New Zealand Film Commission put about $230k into the project. It was one of the best film investments of all time.
I already lovingly reviewed Bad Taste. I admitted that it lives up to its name – it's a splatter film – but in a way that still makes it a movie worth watching and responding to. This rugged picture follows a handful of Kiwis who are sent in when the government suspects an alien invasion. BT gives the audience a ton of comedy and horror as the story unfolds smartly.
The script and acting are letter-perfect, quirky, and engaging. There is no reason to believe that a movie like this would be carefully-crafted, and the viewer is the real winner here (along with PJ). Be warned, this pic is incredibly, skin-crawlingly gross – but in a way that's so OTT, it should make you grimace and laugh. And unlike torture-porn films, its intentions aren't nasty and the non-gory parts are first-rate.
Pi


Darren Aronofsky came to the world's attention after he made this dizzying picture. Basically, Pi follows a math genius who's come up with a way to predict the stock market accurately. Soon, he finds himself embroiled in the world of people who think that learning everything about numbers will allow them to learn everything about their religion (in this case, Judaism). There's such a solid and unusual visual style here, in addition to its ambitious, well-constructed story. And Aronofsky did it for $60k.
We open on a mad mathematician who wants to understand and manipulate the world around him. Over time, we see this man's pursuit put him in danger – both from his growing instability as well as people who want to take what he knows. Aronofsky has done great work since 1998, but Pi has more than just a clever idea and a compelling narrative – it features a hero getting the crap kicked out of him by a rabbi, which I find infinitely funny. It gets unglued and is almost like an episode of Lucy, Daughter of the Devil.
Dead Man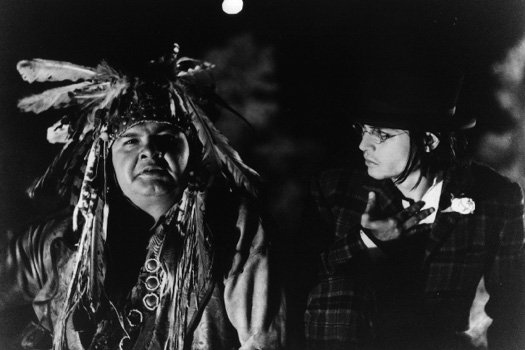 Jim Jarmusch is a well-respected indie filmmaker. Dead Man is a little different from his usual work – a $9M budget is pretty high for this man, nor do his movies normally have stars like Johnny Depp, John Hurt, or Robert Mitchum. Hell, Neil Young did the whole soundtrack.
Although this movie was a financial flop, and received a lot of poor reviews, it has gained a lot of respect and popularity as time has passed. Depp is a simple guy looking for work in the Old West. A fight ensues over a woman, and Depp's suddenly on the run. Injured and now chased by 3 top-notch killers, Depp is befriended by an Indian who protects and travels with him.
It's an incredibly unexpected story, told in a way that's about as unconventional as Oliver Stone's Natural Born Killers. If you were turned off by the negative reviews, you should really give this a shot.
Sex, Lies, and Videotape Steven Soderbergh's quiet, intimate Sex, Lies, and Videotape is full of people who are hard to like, but their unfolding story is told in a way that keeps you watching. This delicate film has a cast of 6, making it feel more like a play than a picture, though the film takes time to show off New Orleans nicely. You'd never think the director wrote this in 8 days.
This is actually the film that I like the least out of everything on this list; I don't dislike it, but I don't like it very much, either. As Soderbergh is one of the most prodigious and consistent American directors, it's worth placing this film on the list, all the more for the overwhelming critical success it enjoyed.
That's my list. Do you agree? Or have better choices? Are you a mod or are a rocker?
Some movies I had to exclude. I still haven't seen District 9, and it's hard to call something "indie" with a $30M budget. The cost was also an issue when I considered Wes Anderson's Rushmore. Hard Eight is supposed to be a fine debut effort by PT Anderson, but I haven't seen that yet. And I so looked forward to adding Blue Velvet, but then realized it was released late in 1986. Doing a Top 10 indies of the last 26 years? That would just be ridiculous…
Remember, we here at Man, I Love Films don't do definitive lists. We do our favorites and we want to hear yours. So, make sure and tell us about them in the comments section below.